Christmas in Malaga 2022. What to do and see
Enjoy Christmas in Malaga is a great option, being one of the best cities in Spain on those dates and climbing positions at a European level.
There is no doubt that the main attractions of Malaga at Christmas are the famous lights of Larios street with musical show included. However, since last year we have new attractions at Christmas that have become essential, such as the video mapping of the Cathedral, the new drone show or the lights of the botanical garden of Malaga.
Málaga's fantastic climate, with hardly any rain and temperatures around 18-20ºC in December and January, shines even brighter at Christmas.
Here I will tell you everything you can see and do in Malaga during Christmas 2022, after the Christmas lights were turned on on November 26th, 2022 at 7:00 p.m.
Málaga is much more than its lights. It has Christmas markets in various locations, decoration and attractions in the neighborhoods or very interesting nativity scenes to visit.
Christmas in Malaga: what to see
Here I tell you 8 plans to see in Malaga at Christmas. In addition, I have grouped them by proximity, so that you can visit many of these places consecutively.
Larios street light show: the most famous thing in Malaga at Christmas.
If you had to choose only one thing, there is no doubt, the Christmas lights on Calle Larios should be the choice.
The Christmas decoration of Calle Larios in 2022 is called "Heavenly Angels", a unique proposal in the world. It is made up of a total of 16 angels in 32 lateral columns.
The Larios street lights will be on from November 26th to January 6th, 2023

The hours of the Larios street lights are from 6:30 p.m. to midnight from Sunday to Wednesday and from Thursday to Saturday from 6:30 p.m. to 2:00 hours.
The musical show of Christmas lights 2022 on Calle Larios will be held in the following sessions: 7:00 p.m., 8:30 p.m. and 10:00 p.m.
The duration of each show on Calle Larios is 14 minutes, including 7 songs and sound and light shows.
Check here all the information about the lights Christmas in Calle Larios.
Video mapping of the Cathedral of Malaga.
We now move a few meters to find the second essential plan to do in Malaga at Christmas. We have to place ourselves at the corner of Molina Lario, between the AC Málaga Palacio and Molina Lario hotels to watch the video mapping projected on the south tower of Malaga Cathedral.
It is a 'video mapping' with Christmas motifs, with nods to the smells and flavors of Malaga. The soundtrack will go through sensations of rattles, trains, reindeer, tambourines, bells, etc.
The video mapping show will be running from November 27th, 2022 to January 4th, 2023, except December 24 and 31.
These are the passes to see the video mapping of the Cathedral: 7:00 p.m., 8:30 p.m. and 10:00 p.m.
The duration of the pass is 10 minutes.
Stroll through the Christmas market in the park in Malaga.
We can continue our Christmas tour of Malaga by visiting the Christmas market located in the Park, just 5 minutes from the Cathedral.
This year 2022 this market in Malaga has been included among the 20 best Christmas markets in Europe by 'European Best Destinations'
Here we can enjoy numerous stalls, grouped by categories, where we can find all kinds of products. From nativity scenes, joke items, decoration, clothing, crafts, accessories… whatever we can think of will be there.
And if we want something to eat or drink, we will also find street stalls where we can enjoy cotton candy or some churros.
This Christmas there will be the XIII Solidarity Market United against cancer that will take place on December 10 in Alcazabilla street.
Visit the Nativity scenes: something typical to do in Malaga at Christmas.
One ​​of the most typical activities that people from Malaga do at Christmas is visiting nativity scenes. The most important is the municipal Nativity scene, which is located in the Malaga City Hall.
The Malaga municipal nativity scene is open from 10:00 a.m. to 2:00 p.m. and from 5:00 p.m. to 9:00 p.m.</ strong>
In addition to this nativity scene, other nativity scenes stand out in Malaga such as:
the Cathedral Nativity Scene,
the Zegrí Cultural Association Student Association Nativity Scene or
the Carmen Thyssen Museum Nativity Scene , among others.
Christmas in Malaga at Muelle Uno.
At the end of the park, walking towards the sea, we find Muelle Uno, an open shopping center, which has designed a extensive proposal for Christmas in Malaga.
We highlight its main Christmas area: the Snow Village, with the magical igloo, where we can find Santa Claus, but there is much more. This year there will be Winter Games, a new area for the whole family with mini golf and curling.
In addition to the Snow Village, there is the Maravilla Souk, a market with top-of-the-line products related to food, crafts, decoration and fashion.< /p>
Drone show in Malaga at Christmas.
This is the great novelty at Christmas 2022 in Malaga: a drone show.
You can see the drones from Pier One, Palmeral de las sorpresas, Plaza de la Marina or Gibralfaro.
The drones will represent Christmas images for which 120 drones will be used in unison that will be located in the Cruise Terminal area.
Premiere: December 3rd, 2022 at 8:00 p.m.
Repeats on December 4th, 5th, 6th, 7th and 23rd, at 8:00 p.m.
On December 9th there will also be a screening at 8:30 p.m.
Lights of the Botanical Garden of Malaga.
The lights of the botanist is a light tour that will allow visitors to accompany the Three Wise Men on their magical and surprising journey alongside the Eastern Star.
The title of the Christmas Light Show at the Malaga Botanical Garden in 2022 is "STELA: The Voyage of the Eastern Star"
Millions of light points will illuminate a renovated 2.2-kilometer route through the botanical garden of Malaga. 20 light installations that will transport visitors to places as historical as Persia, Babylon or Bethlehem.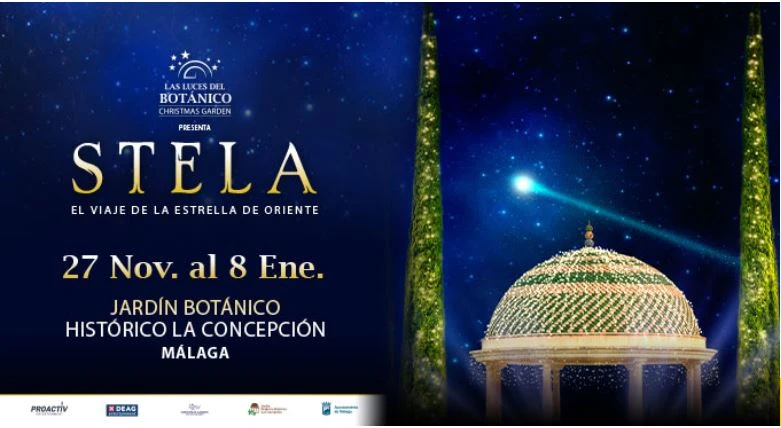 'Music at Christmas': Malaga's music program at Christmas.
On these special dates you couldn't miss live music on the streets of Malaga. A complete musical program has been designed, which includes traditional, gospel, pastoral or zambombas music.
We highlight some performances such as the 'Music at Christmas concerts. Those are held in the Plaza de la Constitución from December 13th to Friday December 23th, with two daily performances.
The 'Zambombas en el Centro' is also planned with four performances. In addition to the traditional Verdiales Festival, on December 28th, the 'Verdiales Christmas Gathering' will also take place on December 11th.
The Pastorals will also have their space with various performances in the historic center divided into six days.
Christmas in Malaga: what to do.
After seeing the essentials of Malaga at Christmas, it is time to do some activities to complete the visit to the city on these very special dates.
Ice skating in Malaga at Christmas.
One of the most popular activities for children at Christmas is going to the ice skating rink located at El Corte Inglés in the Andalusia Avenue.
The ice rink is 35 meters long and 15 meters wide and will be open until January 8th.
To the skating rink we add other attractions that have a giant slide, a 'snow city' or a Christmas train.
And if all this was not enough, this year we have the GoXo food truck by Dabiz Muñoz (best chef in the world 2021 and 2022). It´s located at the front door, to enjoy your street food in the center of Malaga.
The opening hours of the GoXo will be from 1:00 p.m. to 11:00 p.m.
Enjoy typical meals – Christmas in Malaga.
We end our walk through Malaga at Christmas with some typical recommendations for eating. Here one stands out above all : the churros with chocolate , with a big name where you can enjoy them: Casa Aranda (C. Herrería del Rey, 2)

Don't forget to try the borrachuelos, the quintessential Malaga sweet, in a pastry shop. The term "borrachuelo" derives from the wine that the dough carries, which makes the sweet drunk.
To this we can add typical products of these dates such as chestnuts, cotton candy, waffles, choco-kebab!, or fritters, which you can easily find on the street…
Or some timeless ones like the sweet wine from Malaga, which you can enjoy in the Antigua Casa de Guardia.
And if you want some recommendations for eating, here are some ideas:
So far my 10 things to see and do in Malaga during Christmas 2022. An ideal list for both residents, visitors or tourists with a few hours in the city.
Enjoy Christmas in Malaga!
Latest posts by Alejo Tomás
(see all)