Málaga is well known for its "espetos" (sardine skewers) and "pescaíto frito" (fried fish), but there is much more. Refreshing flavors, delicious sweets, cold soups and even spoon dishes for winter.
Below I show you typical dishes (foods and drinks) of Malaga, not only the capital, but the province.
The most typical.
Ensalada malagueña. (Málaga salad).
Mediterranean diet in its purest form. Simple and refreshing, we will find it in many places and we can not miss the opportunity to try it. Its ingredients are: cooked potatoes, chives, orange, cod, olives, salt and olive oil. Yummy!
Fritura malagueña. (Fried fish Málaga style).
The classic par excellence of Malaga cuisine. A good frying requires your technique, a good oil, good flour and a personal touch. The classics are the "boquerones" (anchovies), but we can not help but try the "pulpo" (octopus), the "rosada", the "adobo" (marinade fish), the "calamar" (squid) or the "calamaritos" (small squid).
Porra antequerana.
Another cold soup, in this case typical of Antequera. It is a variant of the "Cordoba salmorejo", made with tomatoes, bread without crust, oil, salt, green pepper and garlic. Very rich and demanded during summer months.
Espeto de sardinas. (Sardine skewer).
Coming to Malaga and not eating a "espeto de sardinas" is like not having come. Sardines strung on a wooden cane, grilled in a boat by the sea. A little salt and lemon are the perfect companions. A must!
Ajoblanco.
The cold soup par excellence of the Costa del Sol. It is made of bread, almonds, garlic, water, oil, salt and accompanied by grapes or melon. A delight for all palates and all times of the year.
The authentic ones of Malaga.
Campero
A simple sandwich for its ingredients, but a dish in itself for its fame among the Malaga. Another must if you come to Malaga.
The classic is with cooked ham, lettuce, tomato, mayonnaise and ketchup, in a good round and grilled muffin bread. Since its inception they have appeared different versions, with tuna, chicken, hamburger, bacon, with everything. Everyone will find their own "campero", because there are so many options as places.
Mollete de Antequera.
As for bread, "mollete" is the star of Malaga. It is a kind of soft crumbly bread, the size of a bagel, is made in a craft and has a particular oval shape. Again, it is believed that it was the Arabs who introduced him to the Iberian peninsula.
A "mollete" can be the base for whatever we want, but I recommend a classic: tomato, oil and ham serrano.
In a breakfast in Malaga can not miss the "mollete", in its defect the "pitufo", another bread smaller and simple. Ordering the coffee will not be as simple as this, I'll explain below and show you why:
The names of the cafes go according to their quantity, with some peculiar names (nube, sombra, corto, mitad, etc.). It is said that this was "invented" in the Central Cafe (Plaza de la Constitución, 11), where in a tile we can see all types available, although this applies to the entire province.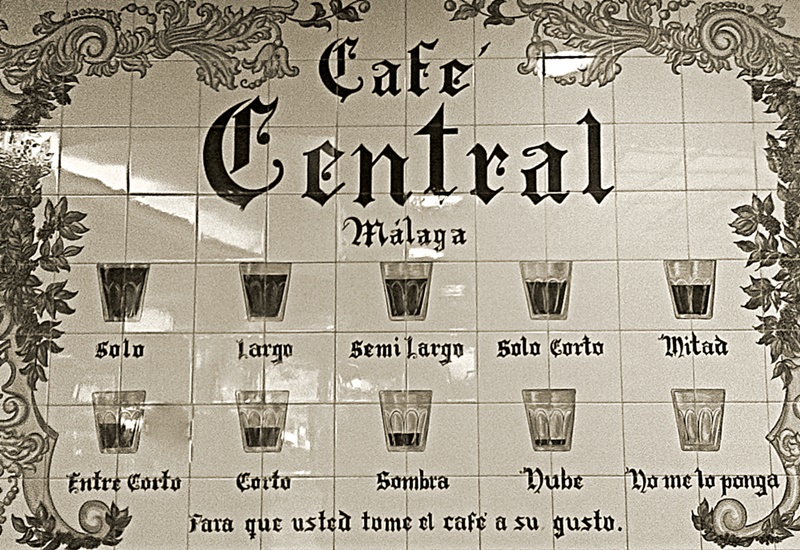 Pajarete.
The perfect dessert. The pajarete is the name of a sweet generous wine from the Protected Denomination of Origin Málaga. If you visit our recommended "Lo güeno" (Calle Marín García, 12), do not forget to ask to close the meal and / or dinner. Another classic site is "La antigua Casa del guardia" (The Old Guard House) in the Alameda Principal.
We can find it in many places of the historical center, we should only look at the barrels located at the bar or ask the waiter.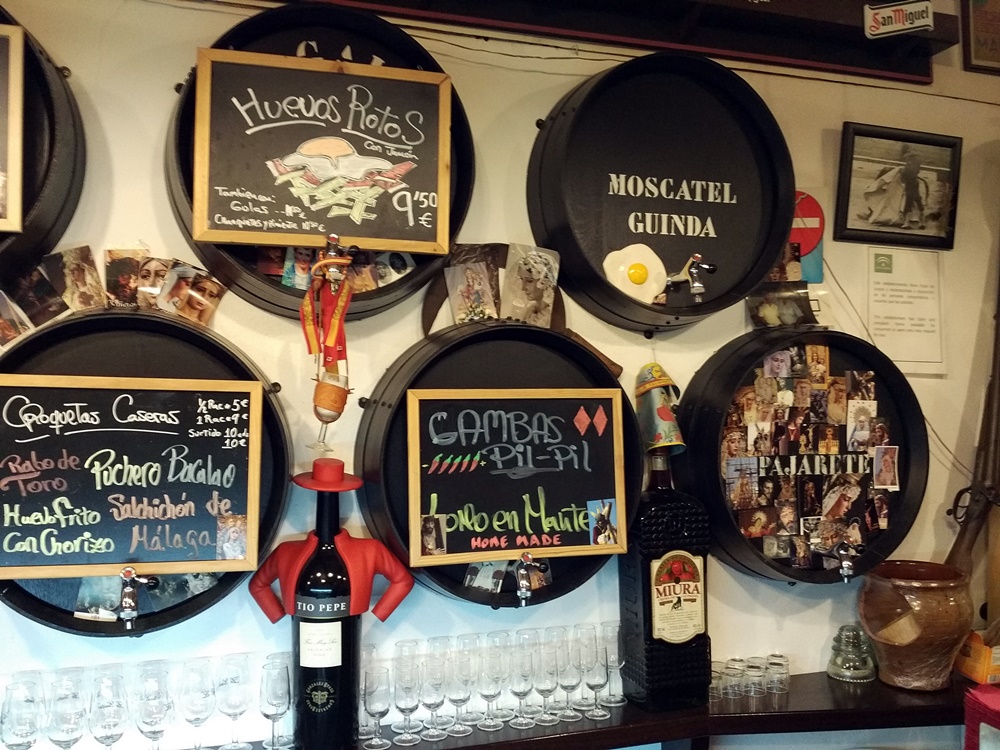 Salchichón de Málaga.
This is one of the most peculiar sausages in Spain, a mixture of minced pork meat with pork fat and pork fat, which adds salt, spices and condiments. Another must in a visit to Malaga.
It is currently a booming product, not only as sausage but as part of other dishes such as tartar or croquettes.
Plato de los montes. (dish of the mountains).
A strong plate and with a high caloric percentage, but that will leave us as new. The union of egg, chorizo, loin, potatoes, peppers and crumbs will make us get a real dish of the mountains.
To taste the classic is to go to any of the villages of the Montes de Málaga, for example Casabermeja.
Winter foods.
Berza Malagueña.
The stew par excellence for the winter. A good dose of calories that will warm anyone. It is composed of chickpeas, green beans, various vegetables, good amount of meat (pork, black pudding, bacon), potatoes, pumpkin, etc. If you visit Malaga in winter, you can not fail to try it.
Sopa Perota.
It is a typical dish of Alora, in the interior of the province. A comforting and abundant soup made up of vegetables and bread. Its ingredients are: bread, tomato, onion, pepper, garlic, peppermint, saffron and pepper.
The sweetest.
Bienmesabe.
This sweet is typical of Antequera, but has been adopted throughout the province. Composed of almonds, eggs, syrup, biscuits, sugar and cinnamon, it is only for desserts lovers.
Borrachuelos.
It is a classical one and it´s ideal to prepare at Christmas or Easter. The term "borrachuelo" derives from the wine that carries the mass, that cover the sweet.
The recipe is not complex, but it carries many ingredients, here you can see them all. It also requires time, but it is not a problem since it is common to meet in family to do them and then share and share among all.
Torta de Algarrobo. (Algarrobo cake).
The Algarrobo cake is an oil cake typical of the homonymous village of the Malaga Axarquía. This sweet, with Arab touches by its ingredients, goes back to the Muslim time in the city. Its ingredients are sugar, cinnamon, matalahúva, flour, extra virgin olive oil, almonds and yeast.
Most of them you will find easily during your visit, but some others will have to look for them expressly, but with our guide you will have simpler.
Enjoy your food! (¡Qué aproveche!)
Latest posts by Alejo Tomás
(see all)